Engineering Deans Gender Equity (EDGE) Initiative: Using Dashboards to Foster Equitable Faculty Workloads
Results from a 2019 ASEE Engineering Deans Gender Equity (EDGE) Initiative survey completed by 90 Engineering deans indicated deans intend to assign faculty responsibilities equitably,  but may not be aware of and/or use evidence-based methods needed to ensure fair and equitable distribution of responsibilities, especially when it comes to teaching and service.
Type: Webinar
Delivery Method: Live Online
Level: Intermediate
Duration: 1 hour
Wednesday, April 14, 2021
1:00 – 2:00 PM ET
ASEE Members: Free
Non-members: Free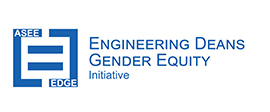 Program Overview
In this webinar Dr. Valian provides an overview of relevant data from the EDGE Survey results, and draws from her extensive research experience, as well as her recent book with Professor Abigail Stewart, An Inclusive Academy: Achieving Diversity and Excellence (MIT Press). Drs. O'Meara and Misra share evidence-based practices that emerged from their 5-year NSF-funded experimental Faculty Workload and Rewards Project. They co-authored a new report and set of resources published by ACE and a 2020 Change article on creating dashboards. They share what they learned with colleagues about the benefits of creating faculty work activity dashboards to enhance transparency, as well as resources to create dashboards to support fair and equitable distribution of faculty responsibilities.